»
»

Cybersecurity Strategy Guide for Small Businesses
Cybersecurity Strategy Guide for Small Businesses
Cybersecurity strategy
is the term used to describe
how
businesses
, especially e-commerce websites and individuals, 
protect their data and digital assets from loss, theft
, or any other type of compromise. Targeted attacks can occur in a multitude of different ways, with more being thought up daily.

Couple this with more and more businesses being online (the number of webshops is growing rapidly). There is a growing trend for malicious people and organizations to try to steal and destroy businesses' valuable data. With this in mind, read on to find out what you can do to protect your organization.

Below we will cover some key areas to consider when devising a strategy to protect your business assets.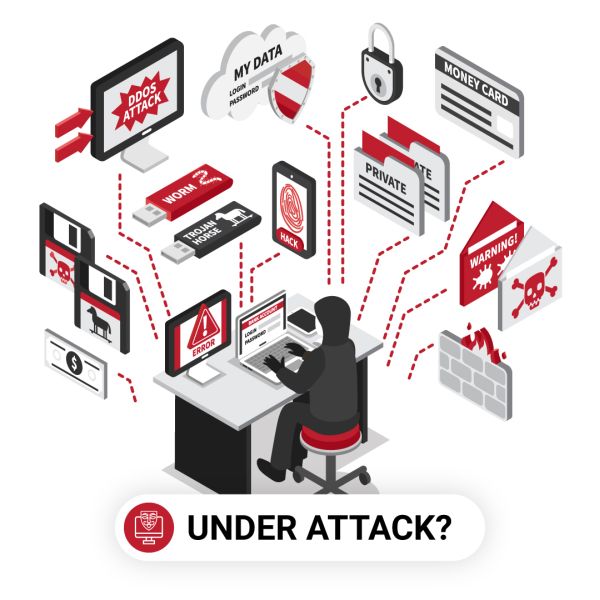 Consider a Long-term Plan
When considering a long-term plan for your organization, you have to consider how complex a solution you are willing to manage. Maintenance shouldn't require too many of your resources. You can save money on one side but can lose a lot of time at the same time, which you could have used for running the other parts of your business. Some important questions regarding cybersecurity are:
Why do you need a cybersecurity strategy?
Does your company have a dedicated person with cybersecurity knowledge?
How do you want to educate your employees?
How much time can you dedicate to cybersecurity per week?
What is your budget for cybersecurity tools?
Do you want a preventive or a reactive solution?
Following this guidance will provide you with a good foundation in cybersecurity. Of course, there is a lot more you can do to defend your business from unintended or unauthorized access, changes, or destruction. It is always worthwhile investing more time into researching ways to protect your information, in particular, staying up to date with the latest developments because tech moves very fast, and so do criminals.
Why do you need a Cybersecurity Strategy?
If you use the Internet and have valuable information on either your phone, laptop, tablet, or computer, you are at risk of cyberattacks.
One study done at the University of Maryland measured the frequency of cyberattacks in the early 2020s. The study found that there was an exploit every 39 seconds. In 2016, a research study estimated that ransomware attacks occurred every 40 seconds. By 2019 this frequency had speeded up to every 14 seconds, and in 2021 it is expected to change to 11 seconds.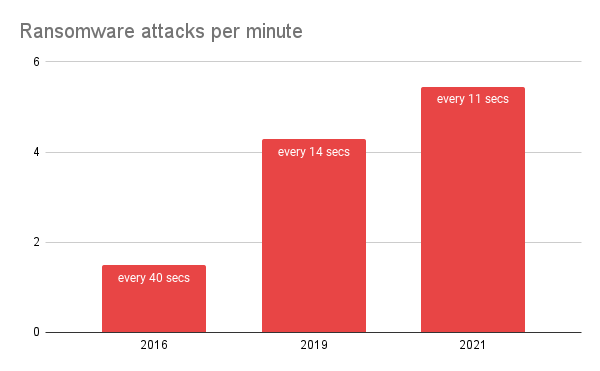 Most small- and medium-sized businesses are vulnerable owing to a lack of proper defense strategies against cyber threats. In fact, around 40% of the businesses with 50 or fewer employees don't have a cybersecurity strategy at all! Another study found that three out of five SMB business owners believed that they weren't likely to be victims of cyberattacks. Small- and medium-sized businesses are becoming the most preferred target of cybercrime. 
Verizon's 2019 Data Breach Investigations Report (DBIR) estimated that 43% of recent attacks were targeted at SMBs.
The cybersecurity laws now demand businesses protect their user's data as well as their reputation. If the company is unable to do so, they can be sued, face a lawsuit, or even worse. What do I mean? David Coolegem – Senior Manager at Sia Partners – said:
"The fines of GDPR are big, but the reputational risk is likely to be bigger."
A dedicated person or 3rd party?
Remember that cyberattacks can be detected and prevented with certain security practices, processes and requires non-stop maintenance.
Large organizations benefit from personnel devoted to cybersecurity, with significant parts of the organization focused on the task, but small businesses don't have those types of resources. Most of the time, at an SMB, it is not worth paying a full-time employee for these tasks. This job doesn't require 40 hours of work per week, plus cybersecurity experts can be really expensive.
As you are running a small business, there's a lot of value in considering a third-party resource to help you with security, such as BitNinja.
Focus On Your Employees
Educating yourself and your employees on security protocols will go a long way in protecting your company.
Phishing, ransomware, and brute force have become popular in the news and genuine threats to small businesses. These techniques can be used for infiltration methods. By educating your employees, you can prevent most of these types of attacks.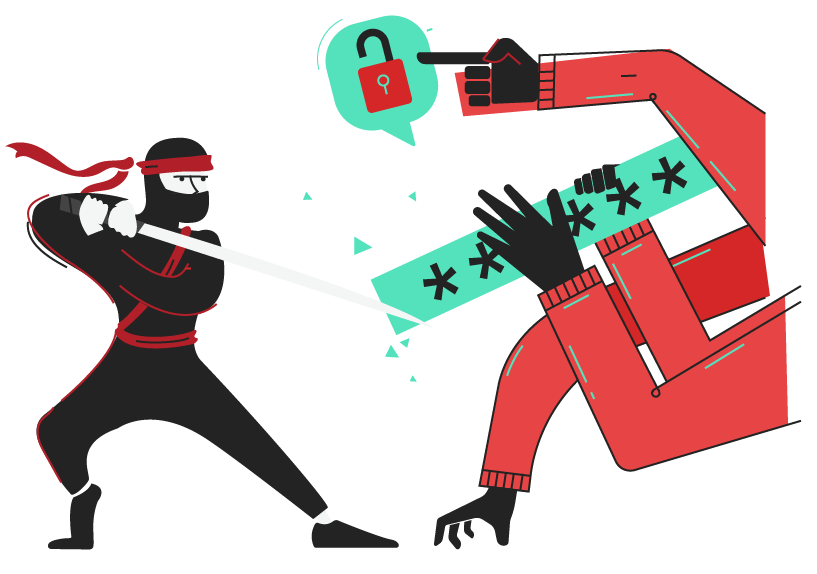 In 2019 an independent security researcher warned the SolarWinds company that with the password "solarwinds123," the IT company's update server could be accessed. They didn't focus on educating their employees in terms of cybersecurity. In 2020, its system – Orion used by 33,000 companies – got hacked.
In 2014 hackers researched Sony employees on LinkedIn and posed as company colleagues. After that, the cybercriminals sent phishing emails to unsuspecting employees, and in the end, they successfully stole more than 100 terabytes of data.
You can have whatever security you want, but if your employees give hackers the keys to your data, they can bypass all of that with ease.
To help combat this, you have to educate your employees, for example, to use strong passwords, change them regularly, or educate them on how they can identify phishing emails and other threats.
Time to Dedicate to Cybersecurity
This point is closely related to the other two.
Wherever the websites and routers are stored, which could be your office, a data center, or the cloud, you need to maintain your updates on them. Designate a team member to be in charge of regularly monitoring the latest software required and updating when necessary.
If you or your team aren't comfortable doing that, get a third-party IT team to help you out.
Updates can be quite time-consuming and a distraction to business owners, but they are essential to keeping your organization safe, just as changing passwords regularly is.
Budget
It's hard to tell how much a hack costs a company. The reputation loss cannot be expressed in monetary terms, and it's hard to measure the lost profit, but according to IBM's Cost of a Data Breach Report, the average cost of a data breach was $3.92 million in 2019.
Large companies raise the average to this high, but the truth is that breaches cost SMBs more relative to their size than large enterprises.
According to IT Key Metrics Data from Gartner, in 2016, companies spent 5.6% of the IT budget on cybersecurity on average. The State of the CIO study says that this number grew to 15% by 2018.
Utilize Website Security Software
Preventive website security software can allow you to get ahead of attacks rather than having a reactionary approach, which most of the time costs much more. Remember that cyberattacks can be detected and prevented with certain security practices, processes and requires non-stop maintenance.
BitNinja SiteProtection Pro protects your websites from becoming compromised. We can also help ease the difficulties of managing your security by placing all security needs within an all-in-one defense system. This is alongside being able to automate your website security, meaning you can rest easy at night.
It's important that we can defend those websites which are stored on a BitNinja protected server. You can recommend it to your hosting provider and advise them of BitNinja ServerProtection for a server security solution.
---
Cybersecurity is not an option anymore. It's a must!
Subscribe to SiteProtection Pro and enjoy the Ultimate Website Protection!

If you have any suggestions for further developments, feel free to 
share them!
We are always open to new ideas.   
Let's make the Internet a safer place together!
Cheers,
The BitNinja Team